We've been exhibiting at various trade shows since I started the business. They are a great way to meet new customers, reconnect with existing customers and network with industry leaders, insiders and fellow publishers. Trade shows can be hard work, but they are also a lot of fun!
Progressive Greetings Live is a trade show dedicated to greeting cards. We've exhibited at every Progressive Greetings Live since the event's inception back in 2008. But like every other event on the planet, the annual PG Live was cancelled in 2020, as lockdown was imposed.
The pandemic hit us hard
The pandemic hit us particularly hard. The first lockdown was just before Ramadan, meaning our Eid cards didn't get to make their usual in-store appearance. Likewise, the second and third lockdowns affected other key seasons, like Jewish New Year, Diwali and Chinese New Year.
Like many publishers, we did see an increase in sales on our retail website, which helped offset some of the losses. I guess it makes sense. When we we're all being asked to stay at home and stay away from our friends and loved ones, we needed a way to stay connected. Zoom, WhatsApp et al and the good old telephone played their parts in helping us keep in touch, but technology is not everyone's cup of tea and sometimes lacks the personal touch. Greeting cards are inherently personal, and transcend the need to keep to the 2-meter rule. In my mind, handwritten cards and letters are the only way to feel close regardless of the distance.
The power of greeting cards to let someone know you were thinking of them was brought home in this video by the Greeting Card Association during the first lockdown (keep an eye out for me with my lockdown beard!).
When PG Live 2020 was cancelled, no one knew at the time how long the pandemic would last for. It could be weeks, months, or years – everyone was glued to their TVs, praying that the answer would be on the "next slide please".
Hope returns
Thankfully, 2021 showed us a glimmer of hope. The lockdowns and the vaccines were beginning to turn the tide, and tentatively dates for Progressive Greetings Live 2021 were announced. Our 2020 booking had been moved to 2021 and so we had a stand. But uncertainty around whether it was safe, or if the event would still proceed kept us on our toes. The 27th and 28th of July were just a week after the official end of restrictions date. Thus PG Live was one of the first trade shows to take place in almost 18 months.
So what was it like at Progressive Greetings Live?
We attended this trade show with mixed expectations. We'd heard on the grapevine that the Harrogate Home & Gift event a week earlier went well, albeit with lower footfall and fewer exhibitors, helped I'm sure by the heatwave we were experiencing. The weather didn't last until PG Live, and instead we we're unloading the car with our stand materials helped by an umbrella and faster footsteps!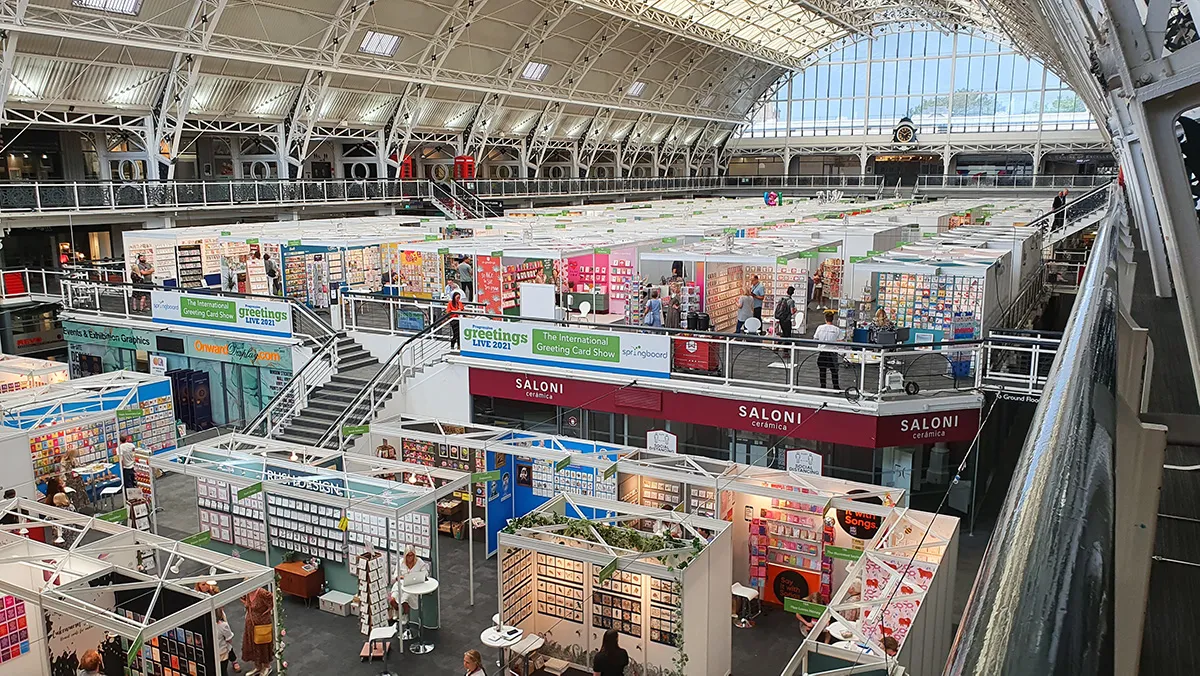 There's no denying that there were fewer exhibitors. One of the organisers told me they had had some last minute cancellations partly due to the over-zealous pinging of the NHS Covid app that was in the headlines this week. Although I wasn't counting at the entrance, it didn't feel like there were as many attendees at the show either. But many of the bells and whistles of the show were thankfully intact. The drinks reception, the card dresses, the free lunches were all back, giving us that much needed sense of normality.
But we did meet some of our regular customers, and we did pick up some new customers and some great leads. Like every trade show we've ever done, the success or otherwise of the event only manifests itself in the months following. And some of the contacts we made were very promising.
PG Live is renowned for being a highly social event, and 2021 did not disappoint! We met up with some great friends from the industry after a long time. It was great to see people face-to-face again (although I'll admit I did like meeting people in my Pyjama bottoms on Zoom, which would have been awkward to replicate in person!). Some new social constructs came into play too. Do we shake hands? Do we hug? Do we offer an elbow?
Warren Lomax appeared close to tears of joy as he and Jakki, organisers of Pprogressive Greetings Live, made a speech at the drinks reception.
Onwards and upwards
So all in all, Progressive Greetings Live 2021 was another success, all the more so given the events of the preceding year. It's left us with a feeling of being back in business and while we may not be out of the pandemic woods yet, I'm hopeful for the future. The year of lockdown has given us time to take stock (and also stock take, which was long overdue!) and we're looking forward to bring out some great new designs in the coming months.