Details of all the Saints in this blog series are patchy at best, but non more so than Saint Andrew, patron saint of Scotland. Here's what we found in our research into Saint Andrew's Day.
St Andrew
Andrew and his brother Simon Peter were two of the 12 disciples of Jesus Christ. He was born around 6 AD in Galliee, now in Israel, and they were fishermen. Andrew was initially a follower of John the Baptist (a prominent figure in Christianity and Islam, revered as a saint and a prophet). When he met Jesus, he instantly recognised him as the messiah
Various legends tell of how Andrew came to be associated with Scotland. In one account set in the 9th century, King Angus vowed to make Andrew the Saint of Scotland if he was victorious in an upcoming battle of Athelstaneford against the English. On the day of the battle, clouds formed a large X shape in the sky, the sign of Saint Andrew. Despite having the smaller army, King Angus was victorious.
Other parts of Scottish mythology say that the Scots are descendants of a population called the Scythians who lived on the Black Sea.
And yet another fable purports that relics of St Andrew were brought to Fife by a Greek monk, St Regulus. In a vision, St Regulus was instructed to take the relics (a tooth, a kneecap, some finger bones and arm bones) and set up a church wherever he was shipwrecked. Thus the area known today as St Andrews (famous for it's golf courses) became a site of pilgrimage.
Andrew was officially declared the Patron Saint of Scotland in the year 1320, following the Declaration of Arbroath. The declaration confirmed Scotland's independence from England. 
The Saltaire – St Andrew's Cross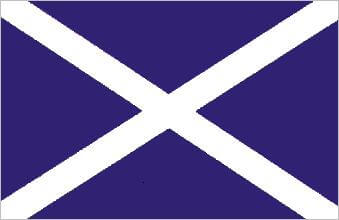 St Andrew was crucified by the Romans in 60 AD on an X-shaped cross. The X-cross thus became closely associated with St Andrew. A white saltire (a diagonal cross with bars of equal length) on a blue background became the flag of Scotland in the early 16th century. It's one of the oldest flags in history. The shade of blue varied over the years. It wasn't until 2003 that the Scottish Parliament standardised the shade of blue – the official colour is now Pantone 300. 
Although St Andrew never set foot on Scottish soil, many Scots feel their culture shares many characteristics with him. He had a humble upbringing, and he was strong and generous, known for philanthropic ideals.
Saint Andrew's Day is celebrated on 30th November. The celebration was actually made popular by wealthy Scottish ex-pats in the US as long ago as 1729, who set up St Andrew's Societies to help those less fortunate. The celebrations picked in the homeland, and today St Andrew's Day is a Bank Holiday in Scotland. 
Saint Andrew's Day Greeting Cards
We've got a great range of cards to celebrate St Andrew's Day! See our range of Saint Andrew's Day cards here.