Who celebrates Vaisakhi?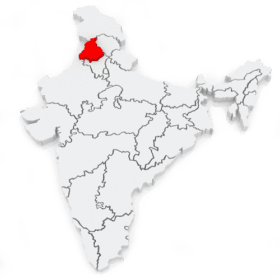 Vaisakhi (sometimes spelt Baisakhi) is celebrated by the Sikh community all over the world. In the UK, this represents a population of around half a million people.
In India, the Sikh population is around 21 million people, with around 21% located in the Indian state of Punjab, north India.
What is the history of Vaisakhi?
The Vaisakhi celebrations are two-fold: it is a harvest festival, and also a commemoration of the birth of the Sikh faith in 1699.
The tenth Sikh guru, Guru Gobind Singh, chose a Vaisakhi harvest festival celebration to found the Khalsa, the community of baptised Skihs. Khalsa translate as "Community of the Pure".
At the Vaisakhi gathering in his hometown of Anandpur Sahib Guru Gobind Singh gave a powerful speech, and then asked for a volunteer to come forward and sacrifice his life for the brotherhood. A volunteer came forward, and they both went into a tent. The Guru emerged shortly afterwards with blood on his sword. He then asked for another volunteer, and the same thing happened. This happened a further three times. Finally the Guru emerged with the five volunteers all wearing turbans, and they were the first initiates into the Khalsa. He gave the five men the title "Panj Pyare" meaning the Beloved Five.
How is Vaisakhi celebrated?
Around the world the Skih community organise a procession called the Nagar Kirtan. During the procession holy hymns are sung, and the procession is symbolically led by the Panj Pyare (Beloved Five) wearing saffron coloured robes.
Watch the video for how the Vaisakhi celebrations were celebrated in 2017 in Southall, home to the UK's largest Sikh population.