When we design Greeting Cards for niche occasions, we like to get to know the festival or occasion as fully as we can. We do lots of research, both online and offline, and in the process we often find some very interesting facts and legends. It's what makes our work so exciting – we never know what we're about to learn!
Recently we've been researching the four Saints Days – St George (England), St Patrick (Ireland), St David (Wales) and St Andrew (Scotland) – for some new additions to these ranges. What we learned was pretty interesting to us, so we thought we'd share some of the facts and factoids with you.
We'll start with St George, Patron Saint of England.
St George
Very little fact is known about St George – much of what we found out about him is caveat as myth or legend. So much so that in 1969 Pope Paul VI demoted Saint George to 'optional worship' due to doubts about the authenticity of his history. This directive was reversed in 2000 by Pope John Paul.
St George was born to Christian parents in Cappadocia, an area now in Turkey, around 280AD. Following the death of his father, his mother took him back to her hometown in Palestine where he became a soldier in the Roman army. He served under the Roman emperor Diocletian.
However he resigned his post in protest at the emperor's diktat to persecute Christians. For this he was tortured. Legend has it he was "killed" multiple times, but was resurrected each time. He never gave up his faith despite the extreme torture methods used. He was eventually beheaded in 303AD.
The emperor's wife was inspired by St George's dedication to his faith and she converted to Christianity too, leading to her also being beheaded.
23rd April marks the anniversary of his death (it's also the death anniversary of William Shakespeare!).
St George & The Dragon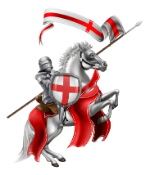 St George is often depicted on a white stallion, wearing a red tunic and spearing a dragon. The story of George and the Dragon became popular in a book called The Golden Legend in the 1400s and goes like this.
An area known as Seline in Syria was besieged by an angry and vicious dragon. The people of Seline offered the dragon two sheep daily to prevent it attacking them. This failed so they started offering a sheep and a person, chosen at random via a lottery (not the kind of lottery you want to win really is it!). On one day the King's own daughter was selected. The king tried to buy her freedom with all his riches, but the people were adamant that she should be sacrificed like many before her.
She was sent to the lake where the dragon resided, dressed as a bride. Saint George was by chance passing the area on horseback and asked her what she was doing. She compelled him to leave, lest he be killed by the dragon too, but he stayed. The dragon emerged and charged forward to attack them. Saint George drew his sword, made the sign of a cross and promptly speared the dragon, wounding it into submission. He then instructed the king's daughter to tie her girdle (a type of belt) around the dragon's neck and lead it back into the town.
The sight of the dragon in the township caused mass panic. George asked the people to have faith in the Lord and offered to slay the dragon. The King and his people thus converted to Christianity in their thousands.
More than just the Patron Saint of England.
St George is the Patron Saint of England, and also the Patron Saint of many other countries including Aragon, Catalonia, Georgia, Lithuania, Palestine, Portugal, Germany and Greece;
He is also the Patron Saint of Scouts. Baden Powell, the founder of the Scout movement saw qualities in St George which he believed should also represent the Scouts – responsibility, truthfulness, devotion to duty, a brave heart, a noble spirit, & dedication to helping others (source: The Scouting Pages).
St George's Day Greeting Cards
We've seen a marked increase in St George's Day Greeting cards over the last few years – they are now our second best selling Saints' Day cards after St Patrick's Day. It's hard to determine the reason for this, and we believe there are a number of factors – recent royal weddings, royal babies, the London Olympics, the Queen's Diamond jubilee, increasing patriotism in other GB countries, and, dare I say it, even Brexit may have had a positive effect on St George's Day card sales! You'll see our full range of Saint George's Day cards here.